Hadley-Luzerne graduates pass on college wisdom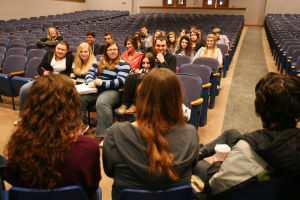 January 13, 2013 5:30 pm
•
LAKE LUZERNE — Take as many classes as possible. Play sports. Join clubs. Make friends and enjoy yourself. Find the college that's right for you and sign up for scholarships.
These were among the suggestions that Hadley-Luzerne High School graduates, who are now in college, offered Wednesday, when they returned to the school to share their experiences in higher education.
For the second straight year, the school invited it former students, a mix of college freshman, sophomores, juniors and seniors, to offer tips.
Kayla Streeter, a junior at Ithaca College, encouraged students to take as many different courses as possible. If high school students don't know what subject to study, they'll find the answer when they get to college, she said.
"College is a good place to expand your awareness," Streeter said. "If you don't know what you want to do, you will when you get to college."
The event, known as "Meet the Graduates," was held while colleges are in winter recess, allowing students to visit the high school.
The graduates were from a mix of public and private schools. There were students from SUNY Adirondack, Fulton-Montgomery Community College, SUNY Brockport, University of Southern Maine, and Rensselaer Polytechnic Institute, and others.
In all, there were 12 graduates, sitting in front of the auditorium. The event was optional for high school students. For a short time, up to 22 high school students were in the audience until they had to leave for a class.
The graduates took turns to introduce themselves, talk about their college experience and offer advice.
Meghan DeMarsh, a senior at Emerson College, said internships will help students set themselves apart from others.
"I would encourage everyone to do internships," she said. "You can't just go to college anymore. You have to do more to stand out."
Even when the high school students left for their next class, a few returned to talk one on one with the graduates.
High school students asked questions about particular colleges, and spoke about their intensions for college.
Many of the graduates provided similar advice. They encouraged students to work hard in class, but warned them about committing their entire college experience to studying. They said students should play sports, try various activities and make friends.
"If you stick to your books and stay in your dorm room, it's going to break you down," said Brittany Bala, who's attending SUNY Fredonia.
A few graduates also discussed the importance of evaluating a potential college and seeking any funding available to pay for tuition. While private colleges cost more than their public counterparts, they offer more financial support.
Some graduates also told students to visit campuses to determine if the college is right for them.
Olivia Austin, a high school junior, said students were fortunate to talk to the graduates.
"It's really great to hear from these college students the do's and don'ts of college," Austin said. "I think we are fortunate to have the program. It's really a great experience and I recommend it for anyone going to college."
The event also allowed the school to hand out scholarship checks to the graduates, who are recipients of a scholarship program named after Alice Harris.
Harris, who died in 2007, left at least $1 million to create the scholarship for Hadley-Luzerne students. She used to own the Harris Grocery Store on Route 9N.
The store is now under new management, and it donated food for Wednesday's event.
School officials said they want to have the event each year. They plan to find ways to ensure more high school students are in attendance in the future.
"Our high school students, they don't know what to expect (in college)," said Beecher Baker, high school principal. "It's an opportunity for them to get their questions answered."