Building the better live trap: Gansevoort couple hopes their animal capture devices catch on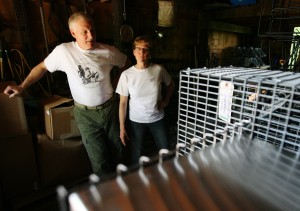 September 02, 2012 6:39 pm
•
WILTON -- Jim Comstock has a mind that likes a steel trap. His own, most of all.
During an interview Tuesday inside his "Assembly and R&D Facility" on Washburn Road in Gansevoort, he rattled off the model numbers, inventors, manufacturers and capabilities of a range of animal traps that have inspired him — in good ways and bad — over the years.
But Comstock, who has been a nuisance wildlife control professional for about two decades and has been trapping animals since he was a kid growing up on nearby Moreau Lake, said his ideal trap existed only in his imagination until recently.
"I've had the concept for a wire-trigger, power-door, swim-through trap for 20 years, and I'm probably not the only one who did," Comstock said, as he got ready to demonstrate his inventions inside the 1,200-square-foot barn where he and his wife, Judy, have launched Comstock Custom Cage LLC.
"I remember — our daughter's 20 now — but when we used to go hiking or something, he wasn't with us mentally," Judy Comstock said. "His hands would be moving and working, and he'd be thinking of this trigger mechanism that he wanted to make."
Now, Comstock has a patent pending on that trigger device and other aspects of the live-capture traps the couple are selling nationwide.
The duo recently returned from a trade show in Owatonna, Minn. And the traps — they come in a wide range of sizes and shapes — are selling as fast as the Comstocks can make them, mainly to professional animal trappers, though homeowners are also using the devices.
"If you order traps, they'll be shipped either same-day or the next day," Jim Comstock said. "But I mean, we're just right at it. Every time we try to stockpile, (customers) keep ordering them."
Judy, who works on the vascular access team at Glens Falls Hospital, said she just reduced her "day job" from five days to four each week so she can help keep up with demand. She also serves as the company's quality assurance officer, shipping agent and bookkeeper, she quipped.
"We need a hat for her with four brims on it that just keeps spinning around," Jim Comstock said.
The secret to the business' success, he said, is threefold.
First, the product is a marked improvement over other live-capture traps.
The trigger, for instance, is a wire device that extends into the center of the cage, instead of a pan, or treadle, that sits on the bottom, as is common in other live-capture traps.
Comstock's traps activate when the animal brushes the wire trigger, rather than stepping on a floor trigger.
The advantage is swimming animals, like beaver, will trigger a Comstock trap that's set in the water whether or not they strike the pan on the bottom. The traps are placed with the top few inches exposed to the air, so trapped animals don't drown.
Once triggered, the spring-powered Comstock Custom Cage doors "go off with authority," as Comstock puts it. Most other live-capture traps' doors are closed by the force of gravity.
"When this trap was designed, if I gave you the parameters for this and said, 'Construct a trap that is totally self-contained, that will not break under any circumstances, has no external parts whatsoever, with power doors, wire trigger, and will work right side up, upside-down, sideways, vertically, on land, in water, underwater and any combination,' and you had to build that trap, you'd be like, 'Woah. There's nothing like that.' And that's what this trap does.
"The other traps work with gravity on land, period."
Comstock estimates he's sold 1,000 to 2,000 of the traps, and the feedback has been overwhelmingly positive.
The second facet of Comstock's success is his "ultra-conservative" nature, he said.
"Everything I do is profitable because I won't go out and borrow a ton of money on a hope and a dream like a lot of people do," he said. "We made stuff very slowly here with very limited equipment, sold it, then made the money to buy what we needed. Everything's paid for."
A third aspect of the business's success lies in the relationships the Comstocks have developed with parts manufacturers. Specifically, Comstock Custom Cage contracts with a company in the Midwest that makes the pieces that form the cage's inner workings.
"We started out with the idea that we were going to make them ourselves to begin with and then turn it over to a manufacturer, and turning it over to somebody else has proven to be more than a little bit problematic," Comstock said.
When a deal to have the traps made elsewhere fell through, the Comstocks entered the world of sourcing. It didn't take long for them to learn lessons about buying bulk.
"The only way you can make a thing like this work is if you order parts by the thousand," Comstock said. "If you make them by hand, it takes you too long, and if you order 100 or 200, you'll just pay through the nose."
Comstock said the key to efficient sourcing is understanding how sources do their jobs. Once he learned the manufacturer was using 2-ton rolls of wire that fed a machine that cut and formed each piece for his order, he understood the value of ordering in large quantities.
"It's a learning curve," Comstock said. "You've got to learn what they're doing so you know what questions to ask."
Once the parts arrive in Gansevoort, they're picked up by Andy Keech, a local welder who's signed on to help out with the manufacturing process. He welds the pieces together for the guts of the traps, and then Jim and Judy Comstock do the assembly work in their barn.
The work goes fast, once it gets back to Washburn Road. In fact, as Jim Comstock answered a reporter's questions about the business, Judy Comstock began to assemble one. A few minutes later, it was ready to be deployed. Only a handle needed to be added, which Judy finished up in a few more minutes.
"They go together really fast, once you've done a few hundred of them — maybe a thousand," Jim Comstock said.
A majority of the Comstocks' creations are going to states that have passed regulations to limit the use of other kinds of traps for commercial trapping, Jim Comstock said. Massachusetts, Colorado, California, Arizona and Washington are among those where trappers are required to use cage-type traps that can capture an entire animal, rather than grabbing onto an animal by one of its body parts, Jim Comstock said.
Live capture traps have some value for homeowners, especially if they want to get rid of nuisance animals without endangering neighbors' pets or children, Jim Comstock said. But New York state laws limit a homeowner's options once the nuisance animal is caught, he said.
Animals are only allowed to be moved to other land owned by the trapping homeowner — or to the property of a cooperating land owner, he explained. Many of the animals Comstock traps — he still works as a nuisance animal control specialist — are destroyed, as a result.
Details about the various types of Comstock Custom Cage traps available can be found online at
comstockcustomcage.com. Prices vary based on the device, but they generally start in the $60 price range.